In-N-Out has it's eyes on Fort Collins
Posted by Amy Bosica on Friday, October 25, 2019 at 1:00 PM
By Amy Bosica / October 25, 2019
Comment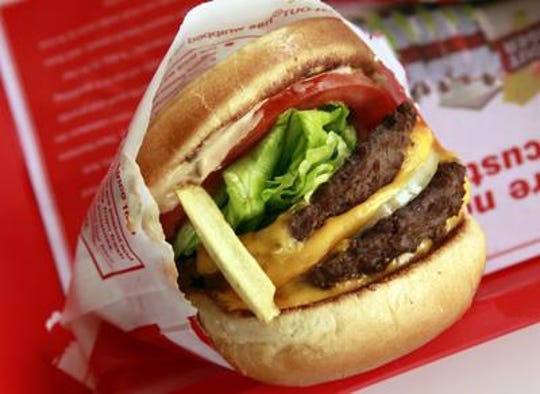 Beloved burger chain In-N-Out wants to come to Fort Collins. Maybe.
The California-based chain met Thursday with Fort Collins officials to discuss plans for a 3,832-square-foot restaurant at 1700 S. College Ave., south of Prospect Road.
Plans are preliminary, but if they move forward, Fort Collins would be among the company's expansion plans in Colorado, which include a $19.5 million distribution facility in Colorado Springs and up to 50 eateries across the state, according to news reports.
The first restaurant is expected to open in Colorado Springs. Plans have also been filed for a restaurant in Lone Tree.
According to its conceptual review application, In-N-Out would raze the existing building at 1700 S. College Ave. that includes Wok N Roll Teriyaki to clear the way for the new restaurant and drive-thru.
Carl Arena, In-N-Out's vice president of real estate and development, was noncommittal about Fort Collins.
"At this time, all of our focus is on the design/build of our distribution center in Colorado Springs that has to be open and operating prior to the first store opening in Colorado," Arena wrote in an email.
"Although our real estate team continues to investigate several opportunities in a number of Colorado cities, it is far too early to comment on any further location plans," Arena said.
A drive-thru is permitted at that location, city planner Noah Beals said, but the restaurant would have to mitigate for potential stacking of cars waiting to get into the site. The Starbucks next door has faced the issue of cars clogging the right lane along College Avenue while waiting to turn into the coffee shop.
The property owner agreed to change the design to create more space for vehicles to stack.
Beals said restaurant representatives gave no indication of when they would hope to open in Fort Collins. But it could be a couple of years away. The distribution center would need to open first to serve the location, and that isn't planned until 2021.
In-N-Out keeps its menu simple: burgers (double, tripe or quadruple patties), cheeseburgers, fries, milkshakes, grilled cheese, plus a burger wrapped in lettuce for those who want to reduce their carbs. It's menu hasn't changed much since its founding in 1948.
But it has achieved cult-like status from those who have grown up with the 71-year-old independently owned chain.
In-N-Out was opened by Harry and Esther Snyder in 1948 in Baldwin Park, California. Known for its fresh ingredients, the company slowly expanded to protect its quality. By 2015, In-N-Out had reached 300 restaurants in five states outside California: Nevada, Arizona, Utah, Texas and Oregon.
The Snyders' granddaughter now owns the company.
Pat Ferrier is a senior reporter covering business, health care and growth issues in Northern Colorado.