Halloween Safe Night - Call for Trunks!
Posted by Tracy Lowery on Friday, September 27, 2019 at 1:24 PM
By Tracy Lowery / September 27, 2019
Comment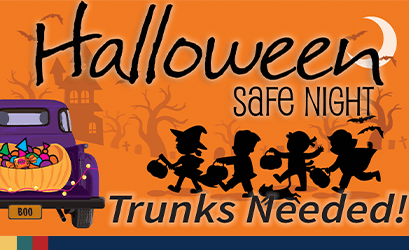 Halloween Safe Night - Call for Trunks!
Help us celebrate the 20th annual Halloween Safe Night on Friday, October 25th from 5-8 p.m. at the Firestone Regional Sports Complex.
The Town of Firestone Police Department's Halloween Safe Night would NOT be complete without our highly anticipated Trunk-or-Treat! As the highlight of the event, hundreds of costumed kiddos and their families line up to gather candy and prizes from each and every station.

Town of Firestone Police Department would like to invite businesses, non-profits, organizations and community groups to be one of our Trunk-or-Treat Sponsors. This sponsorship asks that you bring $200 (minimum) worth of candy to be distributed that night and to decorate whatever 'trunk' you will have parked at the event. We will be giving an award to the 'Best Decorated Trunk' at the end of the evening. The winner will be chosen by the Trunk-or-Treat line participants.

Please email [email protected] to sign-up. Registrations will be accepted until full, or Friday, October 18 at 5:00 p.m., whichever occurs first. Thank you and we look forward to having you be a part of our 2019 Halloween Safe Night!